kk!
i bet u all wanna hear the reasons why i picked this and blah blah blah...
WHY did i pick The moon that embraces the sun?
It has the solid ending i want!(i bet u want to see the pics,hehe,u read finish,at the end there WILL be pics!)The child actors were great,they really brought up the ratings!Man,i miss the yeoyoo couple...well anyways,the adult cast were GREAT!Kim Soo Hyun debut in this crazy popular drama,letting the spotlight be shone on him!(including his songs,the only and only you n from dream high,dreaming)He is now a successful A-list actor.But,thats when Han Ga In is neglected...I think she was awesome!(my ideal actress)
however,i still think that the drama was great!!!HIGHLY RECOMMENDED!
rating:10/10!!!
Ok!above pic is the official poster!Lets move on to child actors...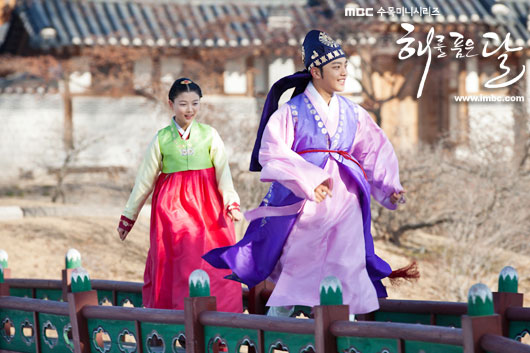 hehe!isnt that cute???now to our adult actors...
and guess what!the captions were:kim soo hyun & han ga in first night pushed ratings to over 40%!!!(yayayayy!!!)now more to the show pics
Our lead man!
hmmmffff...this is not bad either!
Now our lead Heo Yeon Woo(dew rain in chinese 烟雨-i knw chinese ok?)
NOW!our kiss/hug/cute scenes!
yes!this is enough pics for a day!so..
thanks a lot bye!
mallowyay